Effective Sharing Permissions
Effective Sharing Permissions
Updated by Mrunal Deshpande
A user can be a member of various groups/roles. Effective user role is helpful in scenarios where content is shared amongst users and is helpful with the determination of security permissions for various objects.
To set the effective user role:
In the left navigation bar, click the Settings menu.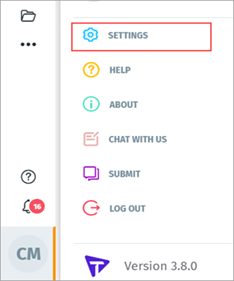 The Settings page opens with different tabs.

Click the Application Settings tab.
In the left pane of the page, click Miscellaneous.
From the Collaboration drop-down list, select the Minimum Effective Role required for sharing.
Any user with an effective role below the level of this effective role will be unable to share content.