Updated by Ramya Priya
All the activities performed on the platform can be monitored on the Notifications page. It helps in tracking the status of a job and correlating it with the corresponding object.
Click on the Notifications tab in the left pane to view every update with your data.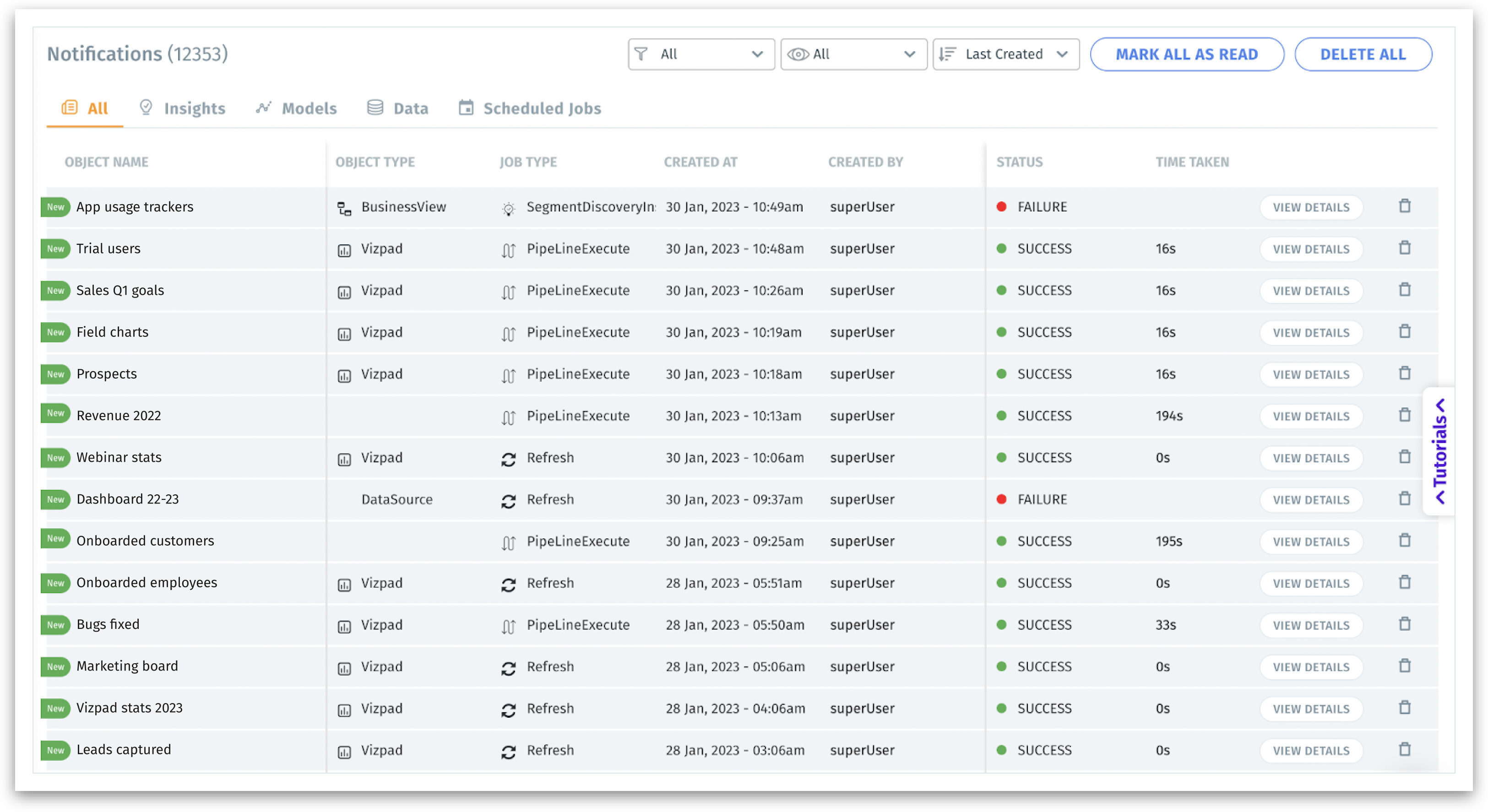 Each notification displayed comes with the following information:
Object name - name of the object associated with the job
Object type - type of the object associated with the job (e.g., Vizpad, Business View, Datasource etc.)
Job type - type of the job executed (e.g., Refresh, Load, Dataset Publish etc.)
Created at - the timestamp of the job created
Created by - owner of the job
Status - status of each job (success/failure)
Time taken - the time recorded to run the job
View Details - Clicking on the View Details button will redirect you to the associated job. If the job is a failure, then the reason for failure will also be displayed.
Delete - Click on the Trash icon to delete the required notification.
Tellius allows you to retry Insights and Business View Publish jobs, in case of failure.

Sorting and filtering the notifications

Click on the filter dropdown to view only successful jobs (Success) or failed jobs (Failure) or ongoing jobs (Running).
Click on the visibility dropdown to view only new (Unread) notifications or old notifications (Read).
Click on the sorting dropdown to sort the list of notifications by recently created (Last created) or by title (Title).
When you click on Mark all as read, all the New tags will be removed for new notifications.
Click on Delete all to delete all the notifications.
Different types of objects will be displayed under relevant tabs:
All - all types of objects
Insights - jobs associated with the Discover tab
Models - jobs associated with the Predict tab
Data - jobs associated with the Data tab

Subscription to scheduled jobs
An additional tab, Scheduled Jobs has been added to keep you updated about the status of the jobs assigned/shared with you. It allows you to easily monitor and stay informed of the status (success/failure) of the jobs.
The Scheduled Jobs tab provides a holistic view of all the jobs associated with the objects accessible to you. It facilitates subscribing to the required jobs and receiving timely notifications. In addition to the creator of the job getting notifications, any user associated with the job can also subscribe to receive periodic alerts.
Navigate to Notifications → Scheduled Jobs.
Click on the checkbox to subscribe to the required jobs. Uncheck to unsubscribe from the notifications.
In addition to displaying the object type, object name, and job type, the timestamps of the latest and next execution with the frequency will also be displayed.
Hover over the info icon to know the details of the creator and the permissions assigned to you.
If you're the creator of a job, then you will be subscribed to the job by default.