Navigating around Tellius
Navigating around Tellius
Updated by Ramya Priya
Tellius provides a user-friendly interface to make it easy for you to navigate around the platform. This page breaks down each component that you can see on the home page (the first page that greets you with when you log into Tellius).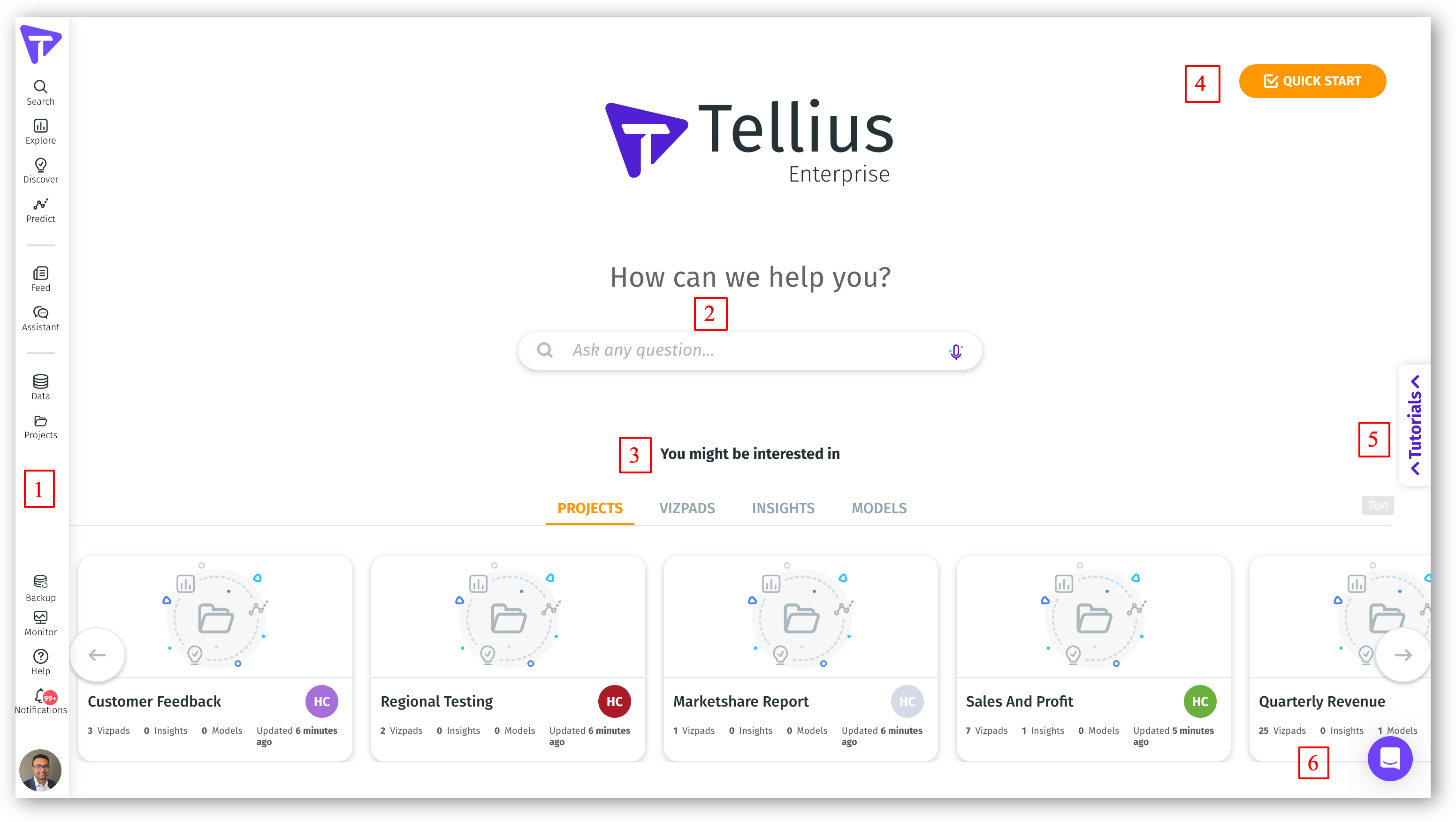 Left navigation pane
The left navigation pane consists of the following tabs. Click on any of the tabs to go to the respective page.
Search - It's the place where you can type in your queries in natural language and get them answered. Before typing in the questions, it is necessary to choose the relevant Business View from where the data is to be considered. An initial set of suggested questions are also displayed related to the selected Business View.
Explore (Vizpads) - Vizpads allow you to build effective dashboards using multiple charts (Viz) and conduct visual exploration analysis by applying various filters to drill down the results. A Vizpad can be built from multiple Business Views. Here, you can access all Vizpads created by you/shared with you.
Discover (Insights) - With Insights, users can discover answers to deeper questions and identify important patterns/relationships in your data. Here, you can access all Insights created by you/shared with you. The Insights are organized into categories such as key drivers, trends, comparisons, and anomalies/correlations.
Predict - Tellius offers a range of machine learning models to its users, including regression, classification, time series regression, and clustering, which can be built easily via AutoML or Point-n-Click. With these models, users can forecast future trends and make predictions based on their current data. Here, you can access all models created by you/shared with you.
If you hover over Search, Explore, Discover, or Predict, you can find a little orange inverted triangle at the bottom right of every tab. Click on it to view and navigate to the objects marked "Favorite" and the recently opened objects.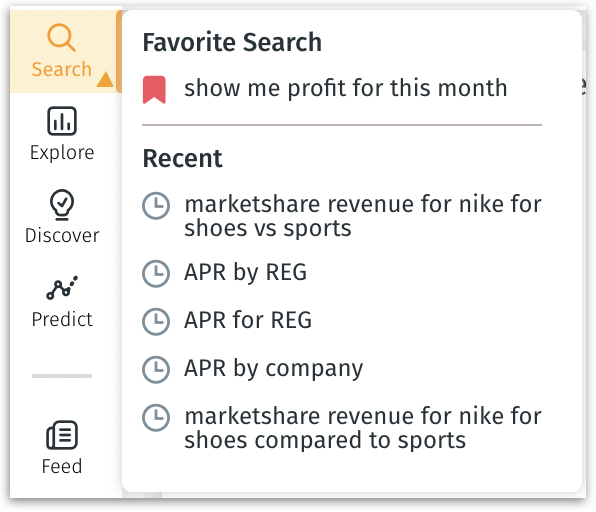 Feed - Set up automated tracking of your important KPIs and get notified (via emails) of any detected anomalies. Here, you can create and manage the metrics to be tracked.
Assistant - Consider it your personal assistant to whom you can converse in natural language, as it will provide relevant suggestions and recommendations based on the questions asked.
Data - All operations related to the data—from connecting to data sources, uploading data, building Business Views, cleaning data, transforming data, and scheduling data flow—can be performed (depending on the permission level of each user) here.
Projects - Think Projects like folders, where you can organize related content together in one Project. A Project may consist of multiple Vizpads, Insights, and Models. Objects which are not a part of any specific Project (unassigned objects) can also be found here.
Backup - As a part of Disaster Recovery, Tellius offers you with a couple of backup options. From here, you can backup data and restore them as required.
Monitor - Displays the system health, where you can monitor and understand the memory utilized for different functions perfomed on the platform.
Help - Click here if you ever feel stuck. Get access to our product videos, guided tour, FAQs, and user guide. From this page, you can also raise a ticket or provide feedback/suggestions.
Notifications - All the details of every operation that has been performed on the platform can be accessed here. The information on each notification includes the owner of the job, the timestamp of execution, type of object, and the status of the job (success or failure).
User icon - Indicates the current user account logged onto Tellius. It's the place where you could configure settings and assign user roles.
Search bar
As you start to type in a question, Tellius will display relevant suggestions. We just brought the Search bar from Search to the home page for easier and faster access.
You might be interested in
A quick glance of all the recent Projects, Vizpads, Insights, Models to help you get started.
Quick start
Follow the workflow to get a headstart with defining the Business View and importing data. Get personalized suggestions for Search and Insights based on your interests.
Tutorials
Guided step-by-step walkthroughs that explain each component that can be found in every module. Irrespective of the page you are in, you can open Tutorials tab and click on the required module to get a run-through. Each walkthrough comes with an overview video and the status bars signify the progress made in a workflow.
Chatbot
When in doubt or if you need any assistance, open up our chatbot and ask away your questions. Our team will be glad to assist you and resolve your queries.