Updated by Ramya Priya
The Tellius product roadmap is an interactive feature that allows users to understand past, current, and upcoming product enhancements. It not only serves as a timeline of our development journey but also as a collaborative platform for customers to influence future developments.
In our commitment to continuous improvement and customer-centric development, we're introducing Tellius Product Roadmap feature (as a part of v4.2). Accessible to all customers, this platform enables users to view planned features, vote for the desired features, and share feedback.
Under Help --> Tellius Product Roadmap, users can view detailed descriptions of proposed features and rate their importance. We believe that this interactive and transparent process ensures that our product enhancements align with our customers' needs and expectations.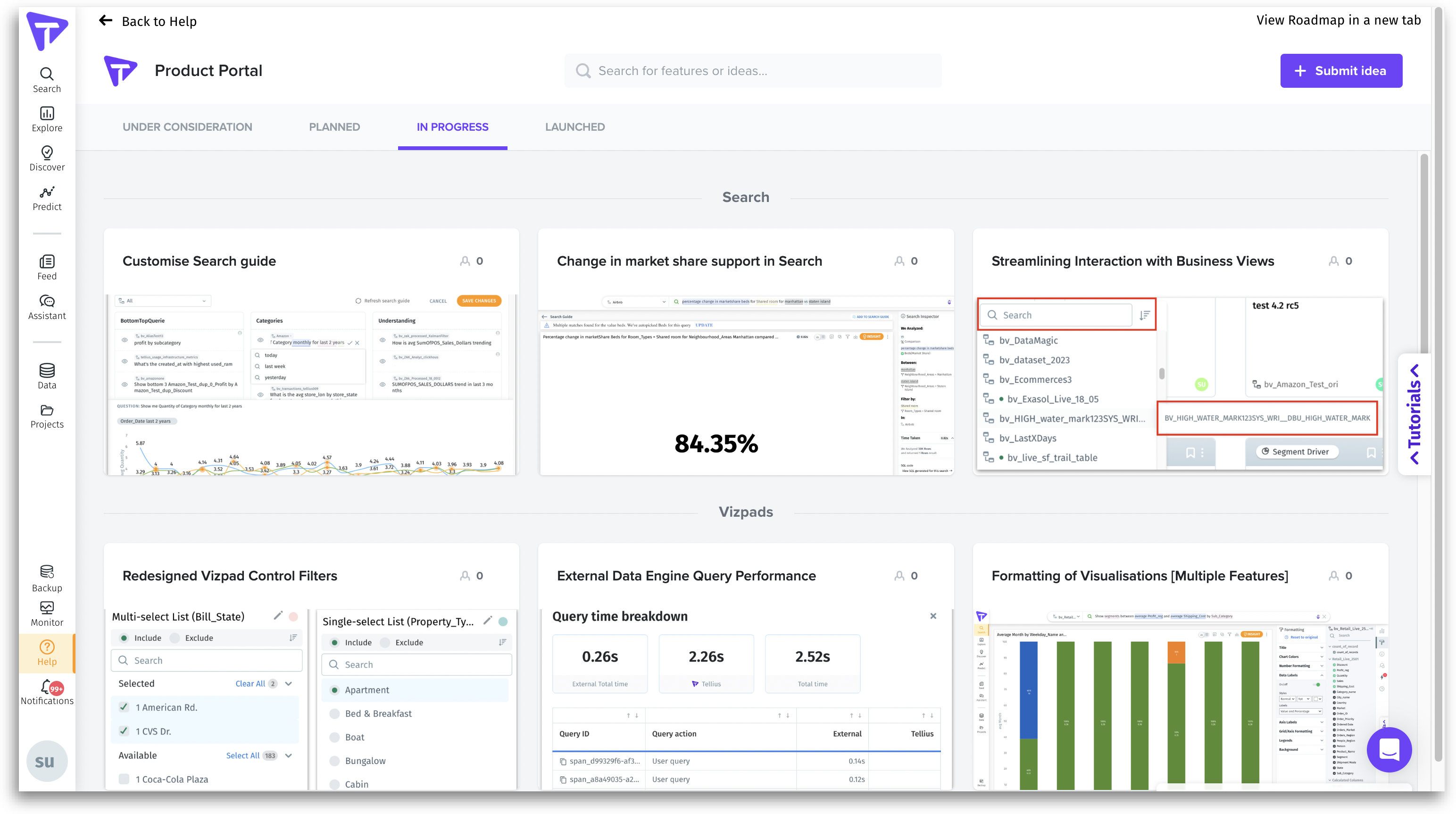 Users can search for the required feature using the search bar present above the tabs. The product roadmap is organized into four distinct sections, providing a clear overview of our development progress:
Under Consideration: Features that we are currently evaluating based on feedback and analysis
Planned: Features that have been selected for future development
In-Progress: Features that are currently being developed by our engineering team
Launched: Features that have been successfully implemented and are now available for use
Submitting new ideas
Additionally, users can contribute their own ideas for the Tellius Product team.
Click on the Submit Idea button at the top right corner. The Submit new idea window opens.
Provide your ideas and select the importance of the proposed feature.
Provide your official e-mail address and click on Submit.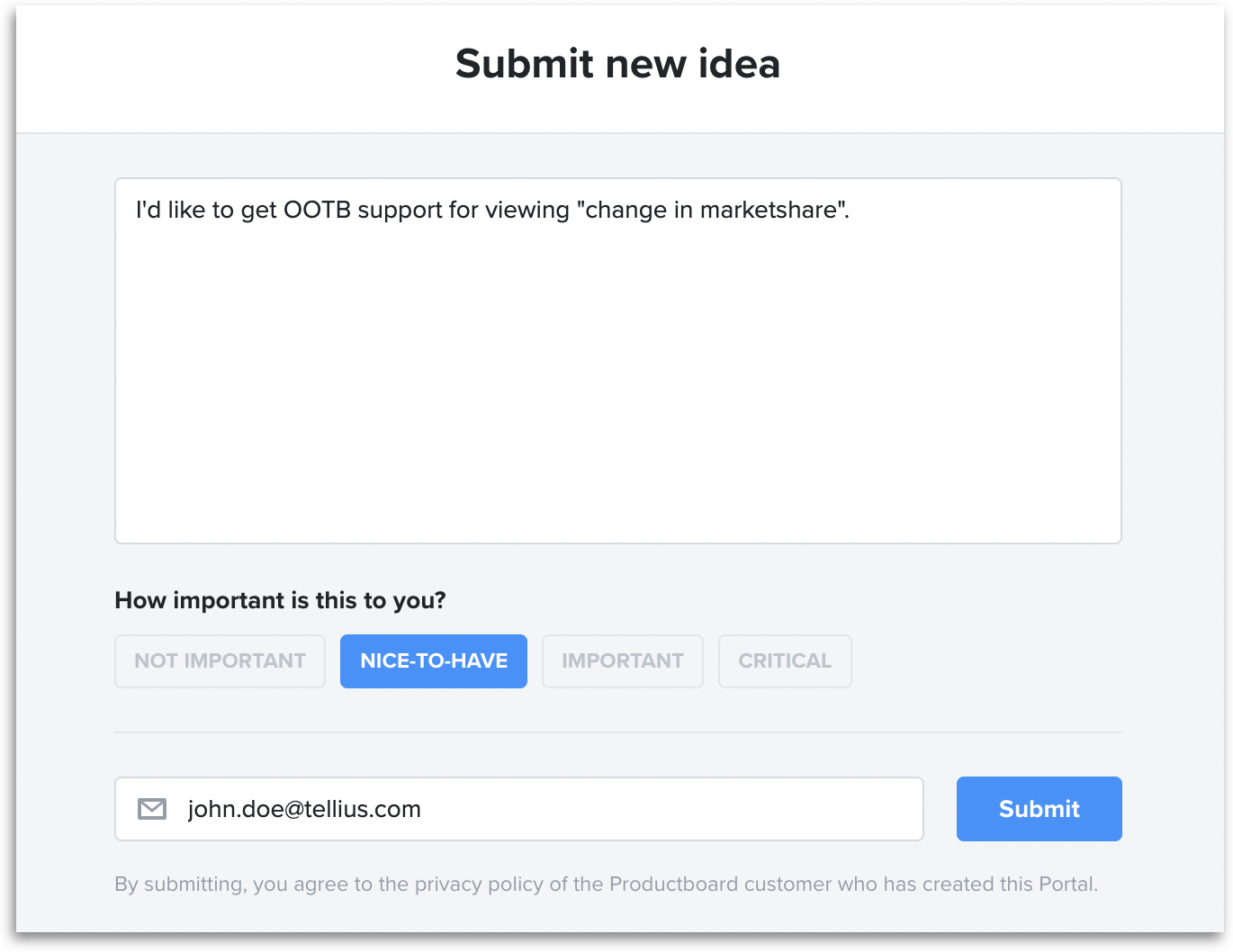 Voting on the existing ideas/features
Under any tab (Under consideration/ planned/ in progress/ launched), click on the required feature to expand.
The entire details of the feature will be displayed with four voting options. The rating scale ranges from 0 to 3. The higher the rating you give, the more important the feature is. The more votes a feature gets (from multiple customers), the higher the feature climbs in the priority list.
0 - Not Important
1 - Nice-to-have
2 - Important
3 - Critical
Click on the required button to convey the importance of the feature.
A text box opens up below the four buttons where you can provide comments and feedback.
Provide your official e-mail address and click on Submit.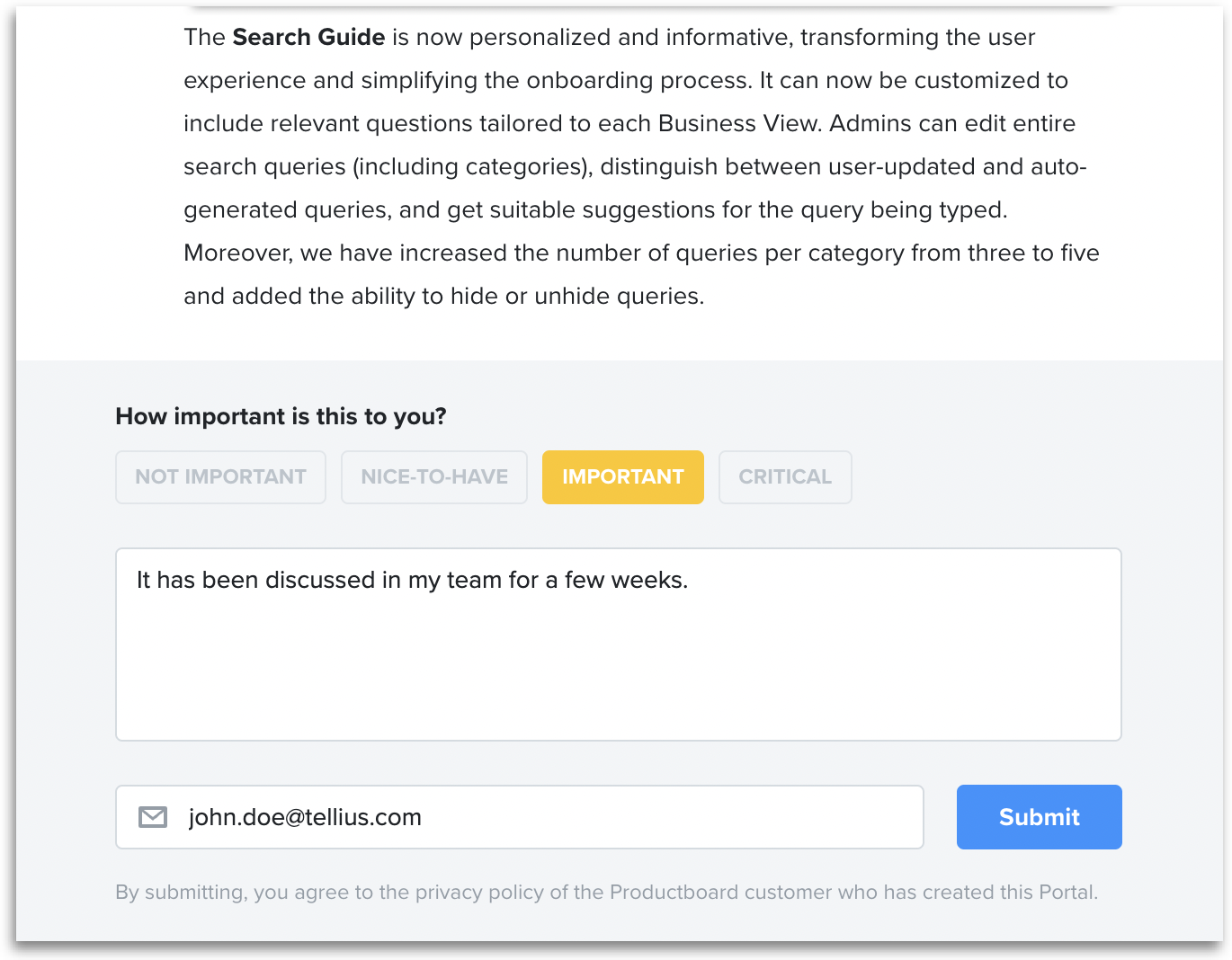 By submitting ideas, viewing and rating proposed features, and providing feedback, customers can play an active role in shaping the future of Tellius.